The fate of football may be in jeopardy due to the recent health concerned fueled by studies about the effects of the brain due to repeated hit to the head.
The guys over at Gridiron Labs have conceptualized a glimpse into the future of football helmets and how it may save or prolong the game, along wit provide numerous advancements outside of the realm of safety.
Despite slow and steady design innovation over many decades, helmet manufacturers are yet to eliminate several basic functionality problems, likely due to outdated league policies and/or manufacturing cost limitations.
• Body of the helmet isn't integrated well with the form of the archaic wire facemasks
• External snap-on chin straps are clumsy and visually distracting (and often fail during game play)
• Undesirable overall weight continues to add discomfort over long periods of time
• Team branding options are limited to basic paint finishes, topical graphic decals, and limited accent options
• Although not neglected, concussion safety is and will continue to be a challenge for decades to come
The concept helmets will feature:
• Molded facemask designs with sophisticated surface & material changes
• Chin strap attachments feed inside helmet—eliminating distracting snaps & buckles
• More strategic venting to allow for airflow through the helmet.
Much like the advancements of drivers optics on the windshields of cars, these helmets would feature a head's up display, allowing players to be feed information in real time including play & route analysis, opponent & matchup information. 
On board cameras will also allow for viewing angles never seen before by fans.
Beyond these advances, the helmets will receive a aesthetic overhaul.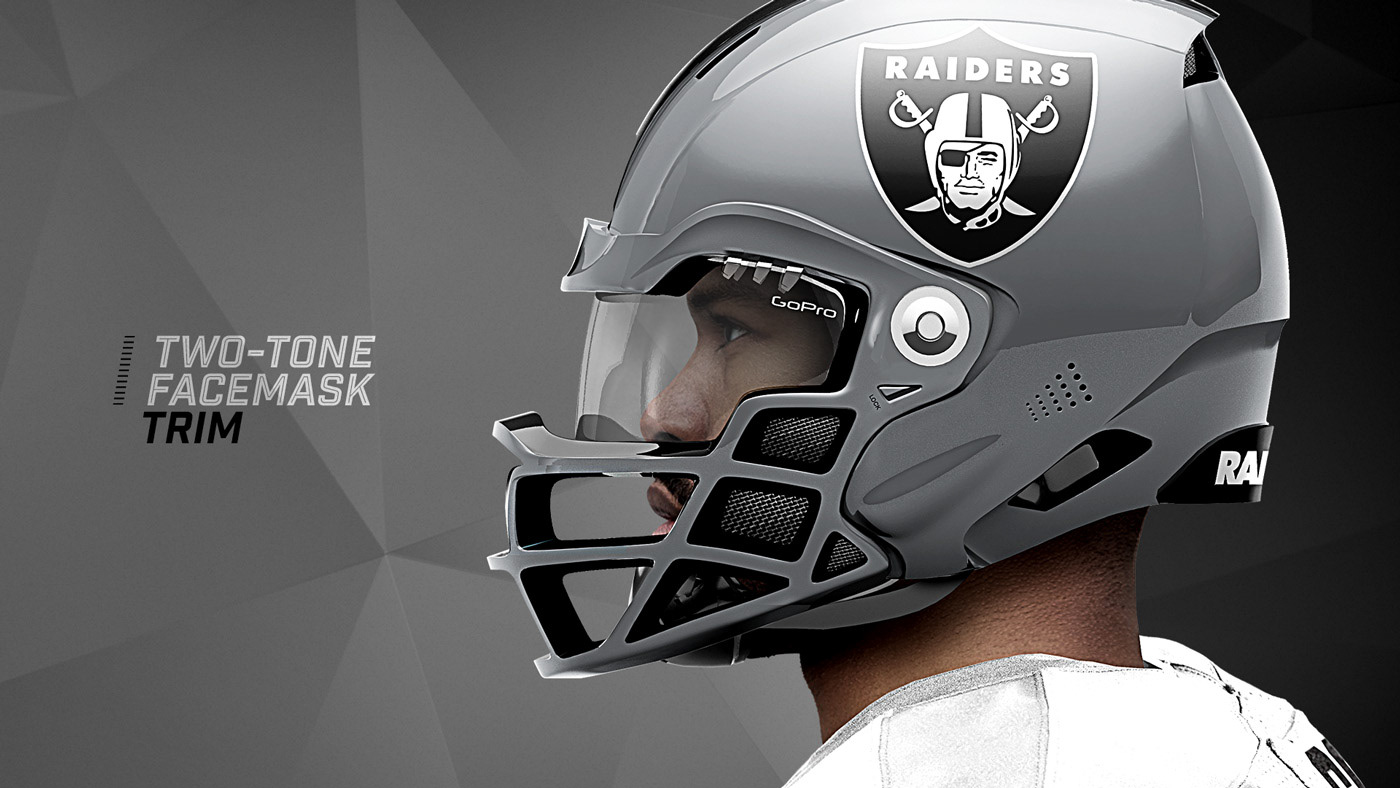 The helmets could also be used as ad space, with motions graphics being displayed on the back.
A digital display helmet shell will spring the helmet to life using formable, shatter-proof digital display technology to enable animated media and motion graphics on the helmet surface, featuring –
• Animated team logos, colors, and patterns
• Graphic & color scheme changes, on-the-fly
• Display partner/sponsor brands & advertising on the helmet during broadcasts
• Reflect fan interactions (like crowd noise, team chants, etc.)
• Player-specific, event based motion graphics (i.e. a player catches fire)
• React to game events and player achievements (1st downs, touchdowns, sacks)
• Express player personalities and personal brands (i.e. Richard Sherman, J.J. Watt)
The Future of Football Helmets is 🔥🔥🔥

Check out the full details here: https://t.co/HkTE5Zm6w1 pic.twitter.com/PN2tJOymKU

— NFL Retweet (@NFLRT) February 15, 2017