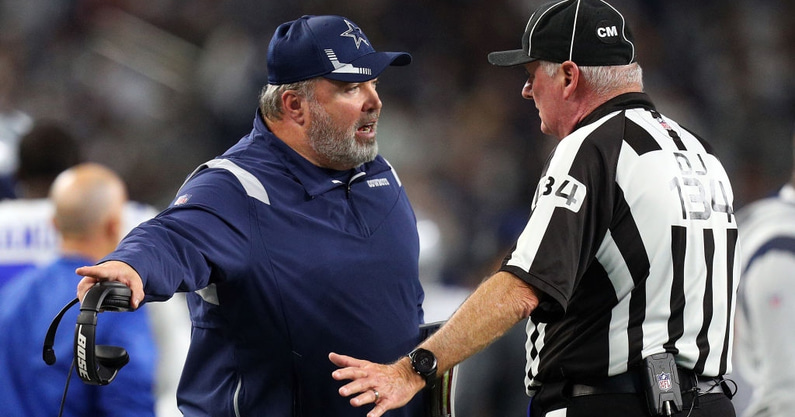 Dallas Cowboys head coach Mike McCarthy said the final play of the team's 23-17 loss to the San Francisco 49ers in Sunday's NFC Wild Card Game was something his team put "a tremendous amount of time into," that it came down in a way he had "never seen" and that he was told during the review that there would be time put back on the clock.
"We felt strongly this game was going to come down to key situations in the end. It's disappointing we didn't get a shot there at the end. … These last two plays, all those scenarios, we put a tremendous amount of time into it. We had a lot of confidence trying to set up that last play, but yes, our execution was not where we would have liked it to have been, clearly.
"I have never seen that come down the way it came down as far as the collision between the umpire and the quarterback. We were trying to get inside the 30-yard line to set up hte last play. The mechanics were intact, I felt, from our end of it. Communication that I was given on the sideline when they were reviewing it is they were going to put time back on the clock. The next thing I know, they're running off the field. That's all the facts I know."
"It's the right decision. Just like anything, the execution and the officiating spotting the ball wasn't in tune. We should not have had any trouble getting the ball spotted there."
The Cowboys nearly pulled off a spectacular comeback from a 16-point deficit entering the fourth quarter. But the disastrous decision to run a quarterback draw with 14 seconds remaining and no timeouts ended their season.
The 49ers advanced with the victory. They'll face the No. 1 overall seed Green Bay Packers at Lambeau Field in Green Bay, Wisconsin, in the NFC Divisional Round.