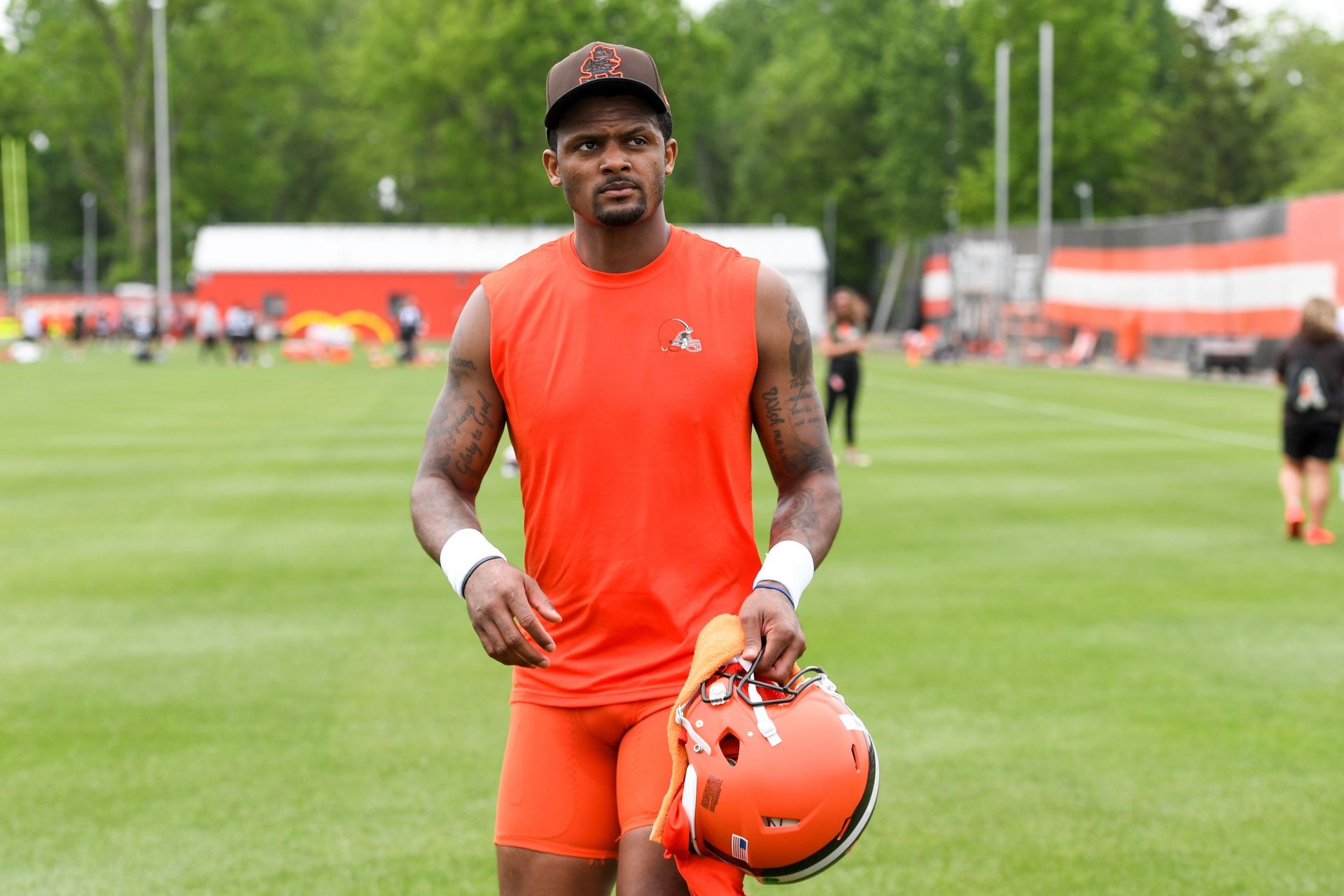 Cleveland Browns quarterback Deshaun Watson is facing more than 20 lawsuits alleging sexual misconduct during massage appointments since March 2021. On Monday, a 24th complaint was filed against the Browns' quarterback.
We know about 24 of the women and also the other 18 woman who came out in support of him last year. That total brings us to around 44. That isn't even close to the amount of women he actually reached out to, according to Pro Football Talk.
Via PFT:
"Defendant Deshaun Watson has a disturbing pattern of conduct," the complaint contends. "Each of the cases against him is strikingly similar, evidencing a habit or custom: Watson seeks out random strangers on Instagram, as he has done more than a hundred times."

More than a hundred times. Presumably, there's evidence to support that claim. Evidence that likely comes from efforts to develop relevant facts in the other cases."
While two grand juries declined to indict Watson on criminal charges in March, the civil cases remain active.

Last Friday, Watson's attorney, Rusty Hardin, joined SportsRadio 610 in Houston and made some controversial comments.
"I don't know how many men are out there now that have had a massage that perhaps occasionally there was a happy ending," Hardin told the radio station. "Maybe there's nobody in your listening audience that that ever happened to. I do want to point out, if that has happened, it's not a crime. Unless you are paying somebody extra or so to give you some kind of sexual activity, it's not a crime.
"Doing something or saying something or being a way that makes you uncomfortable is not a crime," Hardin added. "We've had two grand juries find that, and nobody seems to want to listen."
Hardin clarified his remarks, releasing a statement saying he was speaking "hypothetically" and was not discussing Watson's case. Those comments have since been entered in the newest civil lawsuit.
Tony Buzbee, the lawyer representing the women suing Watson, stated the women didn't agree to "give Deshaun Watson a happy ending."
"That Mr. Hardin would suggest that Watson was OK in expecting that kind of conduct is disgusting," Buzbee said. "I think Mr. Hardin himself, in his moment of clarity, may have ended Watson's career."
Watson was traded from the Houston Texans to the Browns in March, and Cleveland signed Watson to a record-setting five-year, $230 million contract, all of it guaranteed.