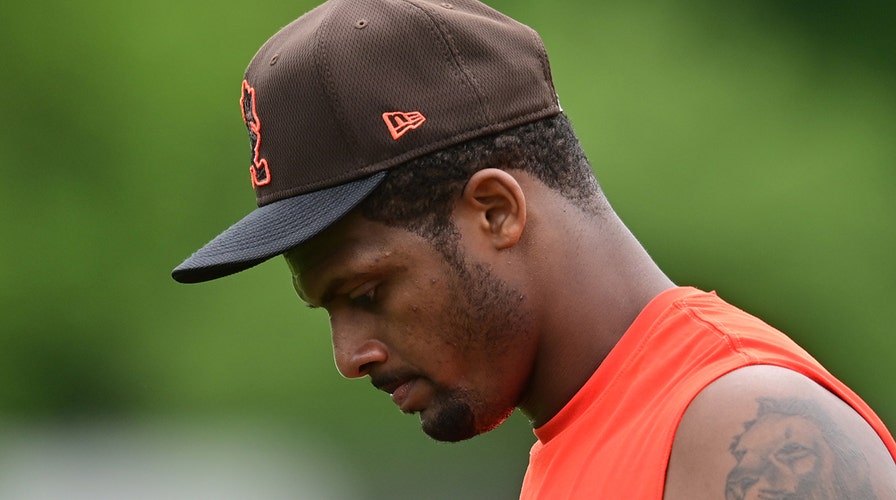 On Monday, a 24th civil lawsuit alleging sexual misconduct was issued against Cleveland Browns quarterback Deshaun Watson.
It seemed to be shocking news to even Watson's lawyer, who couldn't properly send a statement about it, because it was the first he had heard of this new woman.
According to NFL insider Albert Breer, this most recent lawsuit also came as a surprise to the NFL and the Browns. During an appearance with The Pat McAfee Show on Tuesday, he said there's some "uncertainty" about how upfront Watson was regarding the possibility of more litigation.
Breer said, "that the 24th lawsuit against Watson was a bit of a surprise to the league and possibly the Browns. He said there is some uncertainly how up front Watson was with the team."
Via Deshaun Watson's attorney Rusty Hardin:
"We are unable to respond to the new lawsuit at this time," Hardin said on Monday night, per NBC Sports. "Our legal team has not had time to investigate this new filing and had not heard her name until today. Deshaun continues to deny he did anything inappropriate with any of the plaintiffs."
In the suit, a Houston woman alleges Watson received massages at her apartment on Aug. 5 and Aug. 9. The first appointment was cut short after the quarterback took a phone call and then departed in the middle of the session. The next appointment got out of hand as she alleges Watson became sexually inappropriate, after Watson developed an erection and began to masturbate in front of her.
"Plaintiff immediately stopped the massage. Apparently responding to look of shock on Plaintiff's face, Watson said to Plaintiff, 'Relax. It is ok to touch it.' Plaintiff refused Watson's entreaties. Watson then stood up and continued masturbating more aggressively. As he did so, Watson asked the Plaintiff 'Where do you want me to put it?' Plaintiff by this point was in complete shock and could not speak. She froze. Watson quickly ejaculated; some of his ejaculate got on Plaintiff's chest and face. Plaintiff immediately left the room, and ran into the bathroom to clean Watson's ejaculate off of her. Watson offered no apology or explanation for this conduct. He instead got dressed, paid Plaintiff $150 via Cash App and left."
The suit also alleged a pattern of Watson reaching out to strangers "more than a hundred times" through social media.
In 2020, Watson led the NFL with 4,823 passing yards and an average of 8.9 yards per pass while tossing a franchise-record 33 touchdowns on the way to a 4-12 record.